Get A 116.9% Return on Your Home Improvement Project
This year's biggest surprise and best return on investment isn't visible from the curbside.
From Remodeling magazine, January 2016
As the new-home market makes strides, so too does the remodeling industry. This year's Remodeling magazine Cost vs. Value Report shows the second-highest return at resale in the past 8 years, with higher payback from bigger projects and valuable exterior and energy efficient improvements contributing to the climb. Access the latest data on how much to charge for 30 projects in 100 markets nationwide as well as how much real estate experts estimate those projects will increase a home's value at resale.
The average cost and average return at resale for the 30 projects in this year's report resulted in an average of 64.4% of a project's investment dollars getting recouped if the home is sold within a year. That's up from 62% in the 2015 report and the second-highest return in the past eight years. This year's 64.4% deserves an asterisk because the 2016 report eliminates eight projects from last year, including some with the weakest returns , while adding two projects, one of which—attic insulation—topped the list. But if you look only at the 17 projects we've tracked since 2005, the results are similar.
INSULATION TOPS THE LIST
The average 64.2% cost-recouped percentage for all 30 projects in all 100 markets hides vast variations between projects and between markets. This year's highest return came from one of two newcomers to the report—an attic insulation project. As insulation jobs go, this task is fairly simple: Blow loose-fill fiberglass insulation into a 35×30 attic space until you get an R-30 insulation value. Our cost consultant concluded that such a project would cost an average of $1,268 nationwide. Real estate pros, meanwhile, estimated the project would increase a home's retail value by an average of $1,482. That's a $116.90 return for every $100 invested, making attic insulation the only project out of the 30 that averaged out nationally with greater than a 100% return. On a market-by-market basis, installing insulation more than paid for itself in 60 of the 100 markets (click below for more details).
NEW THIS YEAR: FIBERGLASS ATTIC INSULATION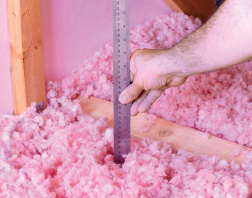 We've been asked for years to add an energy efficiency project to
Cost vs. Value, but we've hesitated to do so because such projects
often measure their payback in years, while the value part of Cost
vs. Value is meant to reflect resale value within 12 months of the
project. The influence that geography plays in energy projects also
daunted us, as did the fact that lots of utilities and governmental
entities have incentive programs that can artificially reduce
installation costs. But ultimately we decided to take the leap, and
boy are we glad we did.
The fiberglass attic insulation project produced the top return on cost of any of the 30 projects in this year's Cost vs. Value group. Our cost source, RemodelMAX, estimated the project would cost an average of $1,268 nationwide. Real estate professionals responding to our survey estimated that work would increase the price of a home at resale, within a year of the project's completion, by $1,482. That's a 116.9% return.
The project calls for a pro remodeler to air-seal a 35×30 attic floor to address any air leakage from conditioned space to unconditioned space. Then the pro would add fiberglass loosefill insulation, placing it on top of existing insulation if present. Fiberglass loosefill would be applied until thickness equating with R-30 insulation value is
reached. The North American Insulation Manufacturers Association helped come up with that language.
Sticklers might note that R-30 falls short of modern energy codes in much of the United States and simultaneously goes beyond the code in other regions, so the amount of loosefill insulation that you'd recommend installing will vary. But one vital part of Cost vs. Value is that we seek to give costs for the same project from coast to coast; that enables us to spot local differences. We stuck to that model.
RECEIVE HIGH RETURNS AT RESALE ON THESE TOP PROJECTS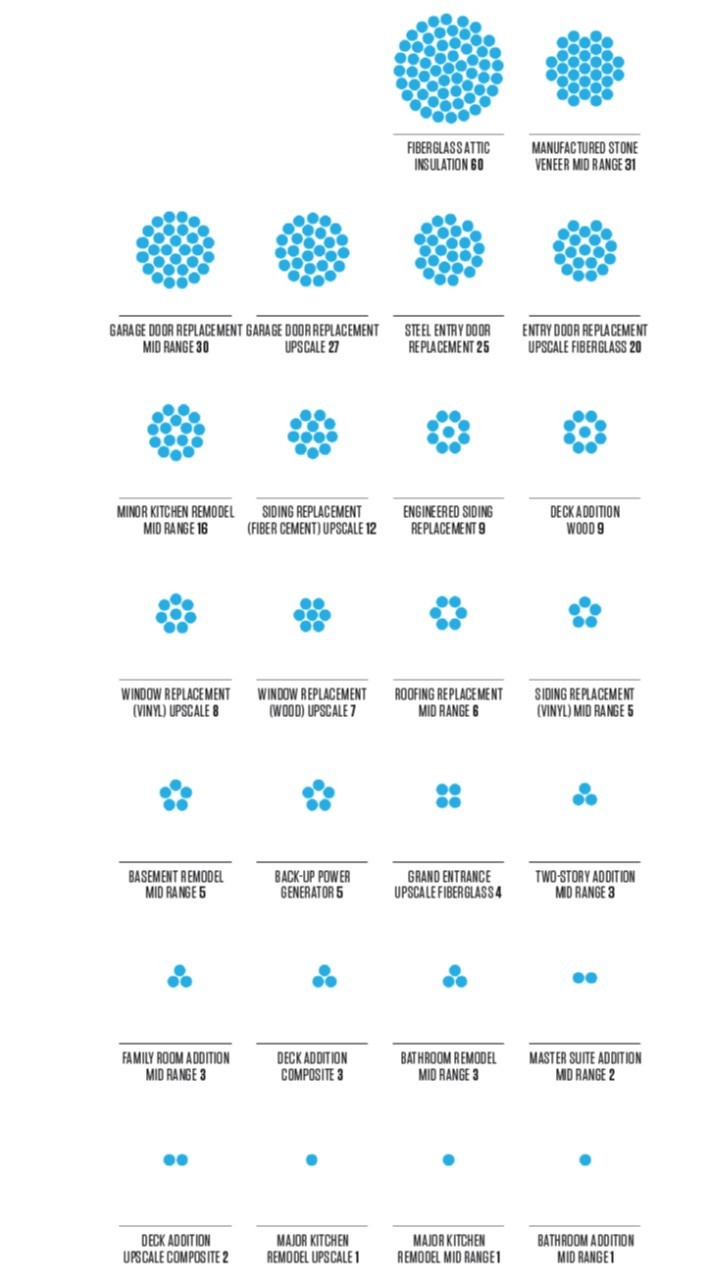 Nationwide, 77 of the 100 markets had at least one project in which the cost-value ratio was at or above 100%. Most times that project was the fiberglass attic insulation job, where the payback in an increased home price at resale exceeded the investment in 60 markets. Only four of the 30 projects failed to generate a 100% payback somewhere in the country.
Remodeling magazine provides professional remodelers information, resources, and news to help run their businesses. The magazine covers topics and instructions on how to remodel homes, and features a product guide and kitchen and bathroom design tools. Subscribers can read about this year's trends, view historical patterns, and get standardized reporting on costs and sales.