Fluctuating Stock Market & Seasonal Shifts Offer Hope for Buyers-Realtor.com
Recent stock market volatility and seasonal trends may give buyers better financial options and more time to make purchase decisions entering the fall, says Jonathan Smoke, chief economist for Realtor.com®. August data remains positive with regard to overall housing health as both demand and supply continue to grow.
"This year we are seeing inventory continue to grow in August, and while overall demand is strong, the trend in median days on market is suggesting that the market is finding more of a balance," says Smoke. "This bodes well for would-be buyers who have been discouraged by the inability to find a home to buy this spring and summer."
According to realtor.com®'s 'Advance Read of August Trends,' which draws on residential inventory and demand trends over the first three weeks of the month:
The national median list price is $233,000, up 8 percent year-over-year and virtually flat over July, demonstrating a continued positive trend in home prices.
Median days on market are down 6 percent year-over-year and up 6 percent month-over-month at 75 days, which shows the season is naturally shifting to favor buyers as inventory moves more slowly than in spring and summer.
The recent stock market correction could offer benefits to prospective buyers. "A temporary drop in demand by those negatively affected by stock market instability might be just what strained would-be buyers need to gain the advantage in a market that has given sellers the upper hand so far this year," says Smoke, adding that postponement by the Fed due to the market correction could extend accessibility of attractively low mortgage rates.
The 20 hottest markets in the country, ranked by number of views per listing on realtor.com and the median age of inventory in each market, in August 2015 are: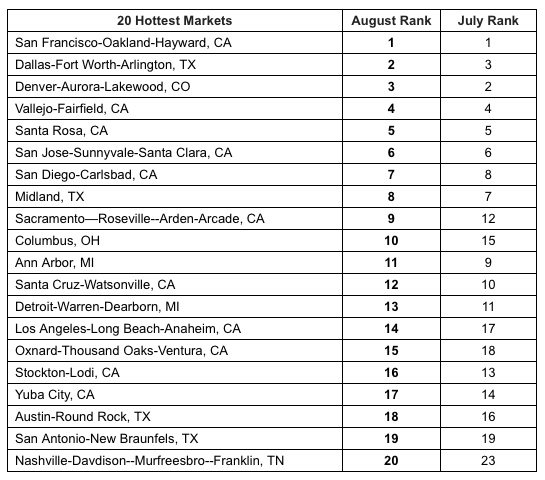 The hottest markets in the country are little changed from July, reinforcing the strength of supply and demand demonstrated by each market on the list. "Continuing the trend of California domination this year, 11 of the 20 hottest markets this month sit in the Golden State," observes Smoke. "California's tight supply and strong economic growth continues to propel its cities to the top of the realtor.com® Hotness Index month after month."
Source: http://Resource/RISMedia.com
Copyright & copy; 2015 RISMedia, The Leader in Real Estate Information Systems and Real Estate News. All Rights Reserved.